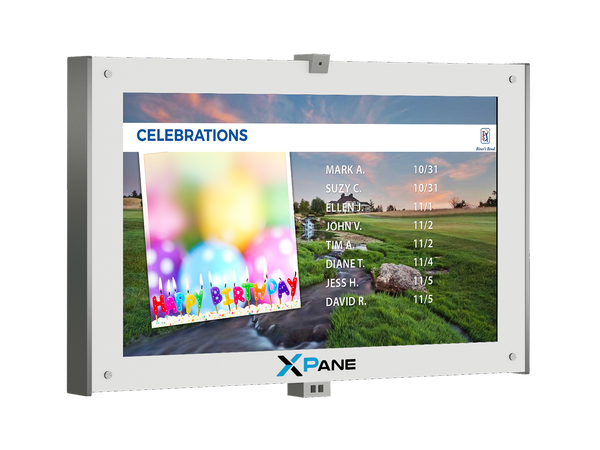 Description
Are you looking to quickly and easily transform your environment and bridge the gap between your traditional experience and the new digital experience your golfers crave? Look no further than this XPane solution geared to drive sales and self-service in your Pro Shop!
With your choice of finish and orientation to match your decor, you'll capture your guest's attention and drive engagement. 
Each XPane comes standard with three applications:
Universal Content Manager (UCM)
Feed Broadcaster
Control Panel
The UCM app enables you to manage and schedule traditional digital signage and marketing messages such as pro shop sales and course announcements or reminders. The Feed Broadcaster allows you to aggregate and display internal or third-party content including local weather, news, traffic and so on. Lastly, the Control Panel facilitates seamless navigation through your available applications while communicating with the XCloud to ensure your XPane data, including leads and engagement analytics, are actionable 24/7 through our dashboards & reports portal.
The standard Interactive Pro Shop solution will include 1 additional application:
This versatile solution is perfect whether you're looking to promote store sales and specials, drive sales of your current inventory or celebrate your member or employee achievements on and off the course.
In addition, this solution includes the following accessories & services:
This XPane solution does not include a HD Digital Camera Kit, Identity Reader or other accessories. View and purchase accessories here.
Disclaimer: Purchase price does not include monthly access to the XCloud Experience Management Portal. For more information on XCloud functionality and billing, click here.